Epicurean Cutting Board
Invaluable Kitchen Workhorse
Invaluability
Feels almost as good as maple butcher block
Low maintenance; thrives on neglect
Not plastic
Machine washable
Heat resistant
Knife friendly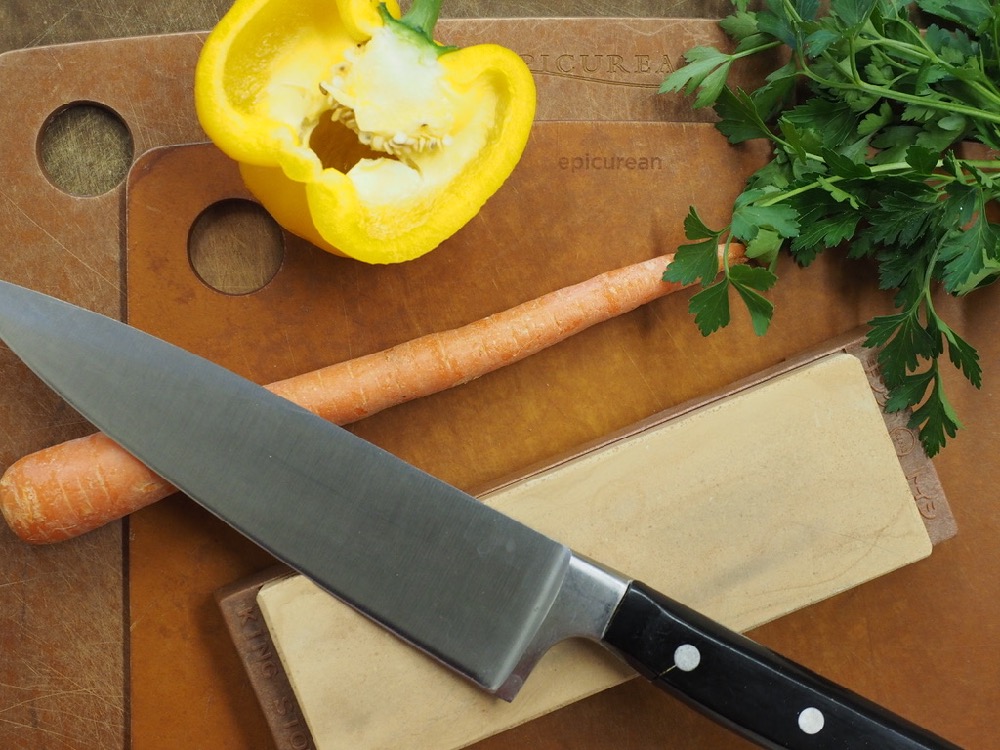 Goldilocks' Cutting Board
Born out of a tough, waterproof material used in skateparks called Richlite, Epicurean cutting boards are invaluable kitchen workhorses: In terms of user experience, these infused paper fiber cutting work surfaces fall in between two kitchen cutting board extremes.
On the luxurious end of the cutting board spectrum, Butcher blocks offer a sublime work and cutting experience, but they require regular maintenance in the form of mineral oil applications. Also, heavy butcher block can be inconvenient to move around the kitchen, transporting it to various work areas. Finally, butcher block boards should not be washed in the dishwasher.
On the practical cutting board extreme lies plastic cutting surfaces. Plastic boards require no maintenance, are portable, and shrug off time in the dishwasher. But, given a viable choice, who wants to cut and prepare their food on plastic? The seemingly Goldilocks solution lies in Epicurean cutting boards.
A Pleasure to Use
Without regard to features and side benefits, Epicurean cutting boards perform extremely well with respect to their prime purpose. Made of resin-infused paper fiber, they perform like wood. The tactile experience of cutting on Epicurean boards lies somewhere between bamboo (very hard) and maple butcher block (softer, and an ideal durability reference). Importantly, cutting and slicing on an Epicurean board is a much more pleasant experience than is doing so on glass cutting boards, which are very hard. (Glass dulls knives and consequently should be avoided for knife work.)
Product Video
Side Benefits
Almost as good as maple butcher block in terms of user experience, Epicurean cutting boards offer many advantages of their own over that premium solution. First, Epicurean boards are much lighter for a given surface area. One can more easily move these cutting boards around the kitchen.
Related, for those concerned about bacteria and cross-contamination, the portability of Epicurean boards suits them well to be used as a battery. Their relative light weight makes this option practical. One might find it desirable to own several, reserving them for use with different meats. Or, as in my case, to guard one cutting board that is only used for cutting fruit, so one's breakfast fruit never tastes like onions or garlic. Finally, Epicurean boards are dishwasher safe. Odors and flavors disappear in the (also sanitizing) dishwasher.
Low Maintenance
Epicurean boards most certainly profit from the occasional application of a thin film of mineral oil, like maple butcher block, but they also seem to thrive on neglect. Even when washed in the dishwasher, Epicurean boards may be used immediately without mineral oil treatment.
Heat Resistant
One other important feature of Epicurean cutting boards is their heat resistance. The company's website indicates these paper fiber boards are heat resistant to 350°V/176°C. Consequently, they do double duty as trivets. Epicurean boards contrast plastic specimens in this respect.
Invaluable Gifts
Consider offering an Epicurean cutting board to anyone who has a kitchen. Everyone from food aficionados to cooking newbies would be served well by one or more. Also consider them as housewarming gifts and for white elephant gift exchange offerings.
Links
###