Tivoli Model One Radio
Invaluable Audio Simplicity
Quality Sound
The combination of simplicity, style and strong sound quality distinguish the handsome Tivoli Model One Radio (and Bluetooth speaker, for some models). Yes, the output is monaural, but for ambient listening the little Tivoli Model One performs terrifically. One secret behind the sound quality is the radio's hollow center cavity and underside portal, which is not apparent to the eye. This radio sounds as nice as it looks.
Appealing Design
"Style" (in quotes) is rampant in the realm of small audio devices, especially among Bluetooth speakers and so-called "smart speakers", but unfortunately most of this style features formed plastic. For most of these speakers, their plastic design disqualifies them. The Model One too has a plastic faceplate and plastic knobs, but the design discretion de-emphasizes plastic and emphasizes functional form over stylized aggrandizement. Its small footprint enhances its usability as well.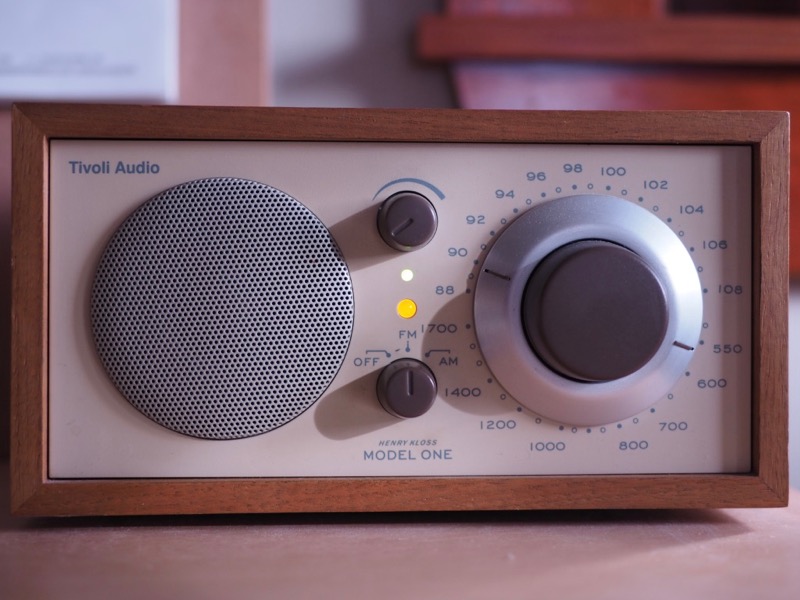 Tuned In
Feature creep plagues the home speaker landscape. An abundance of features, however, is rarely a path to invaluable tranquility. To the contrary; Bluetooth speakers and smart speakers figuratively tether one to other source devices and/or the internet. If you have ever wrestled with Bluetooth linking quirks, or router issues, you can appreciate the relieving reliability and simplicity of radio. The Model One Radio stands out because it emphasizes the FM and AM radio experience, while also offering Bluetooth connectivity. When modern technology lets you down, radio makes a welcome backup. And it remains underated as a primary source, at least in some markets. (Here in the Texas hill country I profit from stations based in Austin, San Antonio, and locally.)
Spoil Your Guests
A handsome, high quality Bluetooth-speaker-and-radio-in-one is an invaluable guest room addition. They are great for welcoming arriving weekend guests to their rooms with the radio tuned to a classical station (a trick I learned from business-trip Ritz Carlton hotel stays). But, anymore, most guests have smartphones, and thus have ready access to their preferred audio sources. And of course most smart phones function as alarm clocks today, but offering a room clock (and a wake up alarm as well) is a simple, elegant addition to anything but the most discrete decor. I do not love the price premium of the Model One featuring the clock, but doubtless it would be an appreciated guest room perk.
###